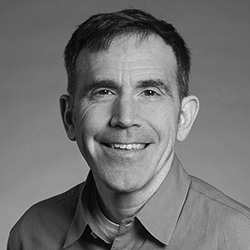 Principal, Worldstudio
For more that twenty years, Mark has been principal of Worldstudio, a New York City strategy and communications firm that builds bridges between clients and communities to enable positive social change.
Clients range from Enterprise Community Partners, W.K. Kellogg Foundation and The Ringling Museum of Art to Times Square Alliance and the City of New York.
In 2009, Worldstudio launched Design Ignites Change in collaboration with the Adobe Foundation to support architects and designers who want to make a difference in their communities.
Worldstudio's focus on socially responsible marketing is mirrored in its synergistic relationship with Worldstudio Foundation, a nonprofit organization that offers scholarships and mentoring programs in the fine and applied arts.
Mark lectures regularly on social design at colleges and universities and industry conferences, such as AIGA and HOW.
Worldstudio's work has won leading industry awards and has been featured in books on design and social change and in publications such as The New York Times, Fast Company, Metropolis, Communication Arts and Eye. Mark and Worldstudio have been twice selected for the prestigious "ID Forty" award, an annual listing of leading innovators in the design industry chosen by ID: The Magazine of International Design.
He was recently included on the Public Interest Design 100 list, representing one-hundred people and teams working at the intersection of design and service.
Mark currently serves on the advisory board for desigNYC and the committee of the Times Square Arts Advisors. He also served on the national board of AIGA, the professional association for design.