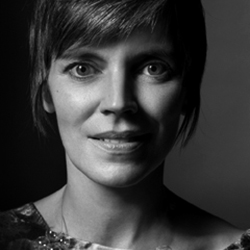 Design Curator, Creative Strategist + Author
Laetitia Wolff is a design curator, creative strategist and author, self-described as a cultural engineer, interested in building bridges between design and communities. Her work focuses on creating projects that generate new discourses, practices and experiences around design as a tool for change.
She currently is AIGA strategic initiatives director, following three years of collaboration with the New York chapter of AIGA where she helped build the organization's civic initiatives. She oversaw community-centered and creative placemaking projects, including Design/Relief, and Identity Design Action: East New York. She headed the nonprofit startup desigNYC as its first executive director following her 2010 launch of expoTENtial, an urban intervention platform that investigated design's strategies to address pressing environmental issues. For the 8th (2013) and 10th (2017) editions of the Saint-Etienne International Design Biennale she co-curated "EmpathiCITY, Making our City Together" and a workshop and panel series focused on creative industries, with Detroit as a case study and new member to the UNESCO Creative Cities network. In 2014 she produced for the City of Montreal "Unsitely!," an international colloquium and workshop that explored design's potential in addressing the negative impact of construction sites.
She has been an instructor at the SVA's Impact! Design for Social Change summer program since 2011. Formerly the editor-in-chief of Surface and Graphis magazines, Wolff is the author of the award-winning monograph on French graphic master Massin(Phaidon) and of the seminal Real Photo Postcards (Princeton Architectural Press). Wolff sits on the NYCxDESIGN steering committee since it inception, and launched the design+city sub-committee.