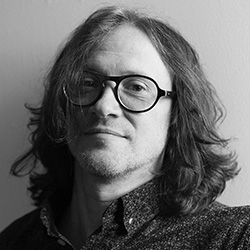 Forward Mapworks, Senior Strategist + Director, BBA Strategic Design + Management, Parsons
John A. Bruce is a strategist, educator, and designer. His work involves designing and developing ventures, platforms, programs, and engagement strategies.
John has extensive experience in empathetic ethnography and systems-thinking. He is dedicated to supporting projects for positive economic and social impacts. He recently served as lead strategist to develop the Brooklyn Fashion + Design Accelerator. In addition to Forward Mapworks, he also co-founded the Brooklyn-based design, strategy, and architecture firm Super-Interesting!  He previously served as marketing director for new media ventures, and in development and production for film and television.
He is Assistant Professor of Strategic Design + Management at Parsons, and also teaches for the School of Visual Arts program IMPACT: Design for Social Change. He earned a BFA from the School of Visual Arts, and an MBA in Sustainable Systems and Business from Pinchot / Bainbridge Graduate Institute. John serves as a member of the Board of Trustees for the Robert Flaherty Film Seminar. He is a faculty Fellow at the Graduate Institute of Design Ethnography and Social Thought, at the New School.